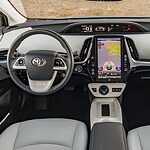 If you're seeking a daily driver, then the automobile industry has its fair share of vehicles to choose from. One of the better options for this matter is known as the Toyota Prius. This hybrid automobile comes in a compact size, but it yields big results from an automotive standpoint. Here's a closure look at some of the interior-related components.
The interior of the Toyota Prius is very contemporary to say the least. Soft-touch fabrics can be found in the cabin, which has enough seating for at least five people. The Prius has much to offer in terms of variety. The front seats are heated, the rear seats have split-fold capability, and there's over 60.0 cubic-feet of passenger space. AM/FM radio is available, or you can take advantage of the vehicle's premium JBL system.
Check out our nice selection by visiting our dealership. We may offer you a free test drive.