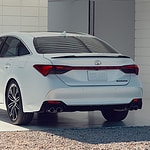 Our One Toyota of Oakland team knows for a fact that the Toyota Avalon is way more than the sum of its parts. Despite its price tag, this classic family sedan screams luxury in its sumptuous interior appointing, cutting edge tech, trend-forward safety and advanced exterior features. Take a look.
Beefy Painted Alloy Wheels
Size definitely matters when it comes to wheels. Bigger wheels have more surface area to connect with the ground. That means more grip, more traction, better handling and enhanced efficiency. It also makes the Toyota Avalon a bit safer on Oakland streets and highways. Although on the large side, the Toyota Avalon's wheels are alloys, a highly sturdy yet lightweight option that keeps vehicle curb weight low and towing capacity competitive.
Intermittent Wipers
Not every downpour calls for constantly working windshield wipers. The Toyota Avalon's intermittent wipers respond to an interior computer, wiping the windshield intermittently in times of light downpour or misting. This keeps your windshield clear without draining your car's electrical system or without the constant distraction windshield wipers moving incessantly.