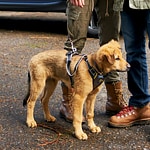 If you travel with your pets or you need to take them to a vet in Oakland, CA, you need to make sure the vehicle that you have is safe and dog-friendly. Your vehicle should have plenty of space for your dogs to sit while the vehicle is in motion. A seat belt designed for dogs can provide added security.
When you're looking at One Toyota of Oakland for a vehicle, consider one that is a bit lower to the ground as this can make it easier for your dog to get in and out. You should also consider a barrier that separates the front and back seat to keep your dog from stepping on areas that could result in stopping your car too quickly.
If you plan to put your dogs in the rear of an SUV or van, then consider a vehicle with a touch-free liftgate. This can make it easier to control your dog while getting them in and out of the back. Seats that fold flat allow for more room for your pets to sit or stand when they need to as well.