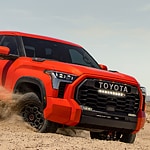 The all-new 2022 Toyota Tundra 4WD is a workhorse of a truck. It comes packed with features that make it perfect for anyone who needs a reliable vehicle for tough terrain. If you're looking for a truck that can handle any job, the Tundra 4WD is the right choice. These capability features are what you need to know.
-V-shaped front frame: The Tundra's V-shaped front frame is designed to give the truck superior strength and durability. This frame is made from high-strength steel, and it's been tested to ensure that it can handle the most demanding jobs.
-Heavy-duty suspension: The Tundra comes equipped with a heavy-duty suspension system that's designed to handle the toughest terrain. This suspension system includes shocks that are specifically tuned for off-road performance, and it provides a smooth ride even on the roughest terrain.
-Off-road tires: The Tundra comes standard with off-road tires that are designed to provide traction in all types of terrain. These tires are perfect for anyone who needs to take their truck off the beaten path.