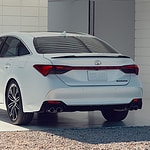 Our One Toyota of Oakland team knows for a fact that the Toyota Avalon is way more than the sum of its parts. Despite its price tag, this classic family sedan screams luxury in its sumptuous interior appointing, cutting edge tech, trend-forward safety and advanced exterior features. Take a look.
Beefy Painted Alloy Wheels
Size definitely matters when it comes to wheels. Bigger wheels have more surface area to connect with the ground. That means more grip, more traction, better handling and enhanced efficiency. It also makes the Toyota Avalon a bit safer on Oakland streets and highways.
Read More